The Continental Line of Arizona
Along with our Patriot Militia, Continental Marines and other Friends & Allies of George Washington's Army 1775-1783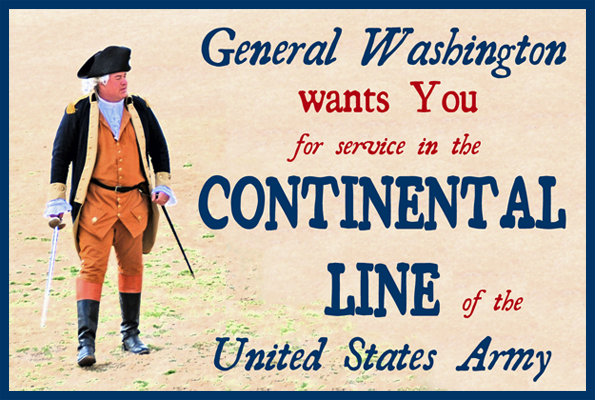 Welcome to the home page of George Washington's Army. We are the Revolutionary War era living history facet of We Make History representing the patriot cause and together with our other "half", the Royal Welch Fusiliers, Grenadiers of the 1st Foot Guards, Jaegers of Hesse-Kassel and Loyalist Militia of the British Army, we are the only regular Revolutionary War reenacting group active in Arizona and the Southwestern United States. Our purpose is to utilize living history or "historical reenacting" as an educational tool to increase awareness and appreciation of our American Heritage of the era of the Founding Fathers. Along these lines we serve public schools, private schools, homeschool organizations and families of all ages in bringing history to life in a way that is engaging, creative, interactive, inspirational and memorable. At our 18th century educational events such as the American Heritage Festival and American Liberty Festival, young people and indeed people of all ages have the opportunity for diverse and unique learning experiences such as interacting with historic characters, learning of historic lifestyles, occupations, beliefs and practices, watching a skirmish, being taught military drill or perhaps even having the opportunity to dress historically, carry a flag or engage in 18th century arts, crafts or dance. We are family friendly and committed to a wholesome and positive presentation with not only roles for historic soldiers of the American Revolution but many roles for ladies, children and civilian men as well. Activities we take part in include the annual American Heritage Festival, balls, parades, picnics, holiday events, 18th century social gatherings and a variety of educational programs. Many of us specialize in "first person" or "in character" portrayals. On the battlefield we proudly work together with friends representing the forces of Great Britain, France and Spain to provide an excellent, multi-faceted educational program centered on the American Revolution that is suitable for all ages.
George Washington's Army has four facets which work together as per the Revolutionary War. Each of these facets includes not only soldiers but appropriate civilian involvement as well.
THE VIRGINIA LINE of THE CONTINENTAL LINE
Regular United States Infantry were known as "Continentals" or the "Continental Line." Contrary to common perception the American Revolution was not ultimately won merely by brave but undisciplined volunteers. To win the war it was necessary to train an army with the requisite discipline to go "toe to toe" with the British in open battle - thus George Washington's Continental Line. We do have specific uniform standards for this portrayal. (See below.)
MILITIA "The Patriot Volunteers"
The Patriot Volunteers are Arizona's Revolutionary War militia company. The majority of those who fought for the patriot cause during the Revolutionary War were civilian men, sometimes with minimal or no training who turned out when needed, usually to defend their home area. These men were from every type of occupation, social level and background imaginable. Those portraying gentlemen, shopkeepers, mechanics, ministers, merchants, traders, peddlers, sailors, fishermen, trappers and frontier settlers are all welcome in the militia. Those portraying farmers are especially welcome as this class made up the majority of Americans at the time. Our Patriot Volunteers primarily represent militia of the American Revolution but are also able (with small adjustments) to portray the French & Indian War and other aspects of the Colonial era.
CONTINENTAL MARINES
Formed in 1775 these men were the first of what was to become the United States Marine Corps. In their distinctive green coats with white facings they fought on both land and sea and were on occasion assigned to George Washington's army. The famed coiled rattlesnake banner with a yellow field and the motto "Don't Tread On Me" was the original Marine flag.
RIFLEMEN
These were men from the western areas of Virginia, Pennsylvania, the Carolinas and even the regions that would become Tennessee and Kentucky. (Those from the area that is now eastern Tennessee were known as "Over the Mountain Men.") They were expert with the rifle, a weapon virtually unused in the more settled areas. In military terms they had unique strengths and vulnerabilities which meant that their role on a tactical level was different from that of the Continental Line or the militia. There are Indian allies among them.
EUROPEAN ALLIES
Included here are soldiers and advisors from among America's allies, particularly France but also including Spain (which sent troops to fight in Florida and Louisiana) and volunteers from other European nations as well.
As all of the above...
We proudly participate in the American Heritage Festival being held each November in Queen Creek, Arizona as well as the American Liberty Festival held annually in both Phoenix and Tucson. For these events we currently field soldiers of the Continental Line, an ad hoc Revolutionary War patriot militia unit, Continental Marines, a company of riflemen, General George Washington and a French officer sent over as an advisor courtesy of Benjamin Franklin and our ally King Louis XVI. We also field the Royal Welch Fusiliers, Grenadiers of the 1st Foot Guards, Jaegers of Hesse-Kassel and Loyalist Militia of the British Army. We are active in The Southwest and have traveled to provide educational opportunities as far distant as the East Coast as well. We enjoy taking part in numerous civilian oriented activities such as historic balls, school & civic presentations and period style social events.
Recruits Wanted!
We are actively seeking new recruits for our Revolutionary War era presentations for our American Heritage Festival, American Liberty Festival and other upcoming events as well.
Wanted: Men who will stand for freedom as Patriot Militia, Continental Marines, Frontier Riflemen, European allies, British Regulars, British Grenadiers, Hessians, Loyalist Militia or Regular United States Line Infantry of George Washington's Continental Army. Each of these components were involved in many Revolutionary War battles. Contact us to volunteer!
The "Patriot Volunteers" Militia
By the outbreak of the American Revolution, militia groups had been utilized in some of the colonies for 150 years and more. Thus, some militia groups had long traditions while others had been formed shortly before or at various points during the war. Some militia groups were well trained and had deep roots in their local communities. Others (the majority) had some basic degree of training. Still others were ad hoc groups formed in time of emergency with little or no training.
There were militia groups that were well uniformed and well armed. These tended to be groups with long histories, generous patrons and /or affluent communities. Many other militia groups were partly uniformed or at least attempted certain guidelines such as wearing coats or hunting frocks of the same colour. Still others had no formal or regulated commonality in dress.
It would have been common in the early part of the war for militia to be mostly in civilian clothing such as was the case with most of the famous minutemen companies of Massachusetts. In settled areas citizens in the militia would have mostly worn frock coats of wool or linen. In the backcountry linen hunting shirts were often preferred, a style which was encouraged by George Washington and which caught on even with some militia from settled areas and to a degree with regulars as well. As the years went by it would not have been uncommon to see soldiers discharged from the Continental army turning out with the militia and still wearing their regular uniforms. By the middle years of the war it would not have been uncommon to see militia with a mix of civilian coats, hunting frocks and a few men in regular military uniforms as well.
Most militia were armed with whatever muskets or fowling pieces they brought from home. Some would have military muskets such as the Brown Bess. Rifles would have been rare in the settled eastern areas but common in the backcountry.
The performance of militia was mixed. At Concord, Bunker Hill and Cowpens (to name just three examples) they fought very well. In some other actions they were unreliable and performed poorly. Both sides employed militia though far more served on the Patriot side. The Battle of King's Mountain was fought entirely by by Patriot militia vs. Loyalist militia as were many smaller actions. As many of our militia dress as civilians we are able to divide into Patriots and Loyalists when the occasion may call for it.
We are recruiting!
Though we have those who portray gentlemen, we are looking primarily for those who will shoulder muskets as "middle class" farmers, townsmen, mechanics, tradesmen, etc. and thus the following clothing list. It emphasizes versatility, utility and commonality.
Coat: This may have a collar or be collarless. A civilian style common to the 1750s to 1760s would be suitable for an older man though 1770s styles are preferred. Current styles of the 1770s should always be the choice for younger men. The cloth should be wool or linen and of a "basic" color such as blue, brown, grey, green or black. The buttons should be self-fabric covered or pewter or possibly even brass or copper. Despite what you might have seen in movies, most men didn't typically go about in public without a coat. (Alternative to a Coat: Period style jacket aka sleeved weskit)
Waistcoat (Weskit): For the 1750s & '60s this may go as low as nearly the knee. During the 1770s it became fashionable as high as nearly the natural waist. A middle class person who isn't necessarily up with the very latest cuts from Paris could get by for both Rev. War and F&I War with one coming perhaps to the middle or upper thigh. Alternately, have two waistcoats of different lengths - one for each time period. Linen and wool are excellent choices for a typical civilian miltiaman. Most should stay away from silks. Pewter or fabric covered would be good choices for buttons.
Linen Frock: This is an alternative to a coat and waistcoat. Many Virginia militia units wore a caped frock of purple linen. Other militia groups wore green. Brown, blue and natural linen colour were used as well.
Breeches: For the Revolutionary War drop-front is by far the more common style though fly-front is still occasionally used. For F&I War fly front is by far more common though the drop-front style is proven to date to the early 1750s. Breeches should be of wool, heavy linen, heavy cotton or a linen/cotton blend. Leather breeches are also acceptable and were quite common at the time. Choose white or basic, muted colors such as brown, tan, black, dark blue, forest green, grey, etc. Buttons may be pewter or fabric covered. (Alternative: Period style trousers or sailor slops if appropriate to your character.)
(Note: For civilian suits the coat, waistcoat and breeches may all be of the same cloth ... or the coat and breeches may match with the waistcoat contrasting ... or the waistcoat and breeches may be of the same cloth with the coat contrasting. All three combinations are known to have been worn.)
Shirt: Ideally, this should be linen (though we will permit cotton) and for most it should be without ruffles. It may have a common style shirt collar or a band collar. White, "natural," brown and blue are good choices.
Neck Stock or Neck Cloth: The best choices would be white or black linen. Cotton and silk are also acceptable.
Stockings: These may be cotton or wool of any basic color.
Shoes: A simple 18th century style civilian shoe with plain pewter or brass buckles is best. "Hi-Lo" boots made by Fugawee work too. Black is the preferred colour.
Hat: Tricorns, roundhats with one side cocked up and toucques (knit caps, Liberty caps, Monmouth Caps) are all acceptable. Militia hats may be untrimmed or have plain, simple trim - commonly of black or white.
Spectacles: If worn, these should be of a period style.
Belts: Leather belts with period style "double D" buckles may be used.
Clothing Patterns: Avoid "commercial" patterns from the lines found in fabric stores. They may be fine for school plays but are not suitable for reenacting. If you need recommendations as to historic reproduction patterns or where you may have clothing made for you please email us. Don't waste your money. Do your research and commit to a quality result.
Wigs: The majority of militia would not have worn wigs but there may be a few.
Facial Hair: 18th century men did not wear beards, goatees, soul patches or long sideburns. (Yes, some German troops did sport waxed moustaches and Edward Teach, the infamous pirate wore a trademark black beard early in the century - but these are unusual exceptions which had purpose in what they did.) Whatever you may have seen in movies - or even on reenactors - men simply didn't wear beards during this era. (Yes, we are aware that there is some facial hair pictured on this very page. Authenticity is a "work in progress" for us all. ;o)
Accessories: Haversacks, pouches, powderhorns, etc. were all commonly used. Make sure they are of period materials and design.
Weapon: This could be a British "Brown Bess" musket, a French "Charleville" musket, an older military model or a civilian article such as a fowling piece. All would be flintlocks. Quality reproductions of the Brown Bess and Charleville are available from certain suppliers along with the necessary accoutrements. A period style bayonet is optional for militia. The typical militia member would not carry a sword or pistols though there may be a few. Ditto for rifles.
Riflemen
Our company of Riflemen portray frontiersmen ("longhunters" or "over the mountain men") who fought in an organized manner for American Independence, generally as marksmen who were able to move quickly and harass the enemy from a distance. They dressed in a variety of attire appropriate to a frontier/wilderness setting of the 1770s-'80s though the well known linen frock and hunting shirt seem to have been very common. Our riflemen serve primarily as scouts and skirmishers. There could possibly be Indians serving among them as well.
The Uniforms of the United States Continental Line Infantry
American uniforms during the War for Independence covered a great deal of territory in terms of colors and combinations as well as details. As early as 1775 the Continental Congress made an attempt at a degree of uniformity with the choice of brown coats with facing colors to vary by regiment. Lacking supplies and cohesion and with many regiments already outfitted as they pleased, this directive never seems to have made much progress. After all, very early in the war the majority of officers had already shown a proclivity toward blue coats, an attraction shared by a large number of the men as well, and it appears that blue had already become the predominant colour. Washington personally favoured a frontier style uniform of hunting frock and leggings but again a combination of lack of supply and other interests made for little progress.
But in 1779 General George Washington, as Commander in Chief and with the permission of Congress, issued definitive orders regarding the regulation of army uniforms.
Regarding infantry, dark blue regimental coats of wool lined with white linen became standard. This reflected a trend that had already become somewhat evident. Buttons would be of pewter. The color of the facings would be determined by region. New Hampshire, Massachusetts, Rhode Island, and Connecticut regiments would have white facings. New York and New Jersey would have buff facings. Regiments from Virginia, Maryland, Delaware and Pennsylvania would have red facings. North Carolina, South Carolina, and Georgia would have blue facings and buttonholes edged with narrow white tape.
The small clothes (drop-front breeches and waistcoats) were of white linen or white wool. Though Washington came to favor the use of "overalls" (not to be confused with the modern article) and some regiments and individuals had them, it is apparent that most soldiers served in breeches and stockings though some of these also had black linen half-gaiters to protect the lower leg. Washington's Life Guards (who were undoubtedly among the best equipped soldiers in the army) are described near the end of the war as wearing breeches, stockings and half-gaiters – not overalls.
Most regiments wore hats which were of the military cocked tricorn variety, black with white trim being most common for Continental infantry, along with a black cockade (before the French alliance) and a black and white "alliance" cockade after France entered the war.
It is fair to say that not all regiments or all soldiers in all regiments were all outfitted as per official regulations. Some regiments probably never complied and many were likely in partial compliance. However, a very good degree of progress seems to have been made as per Washington's orders, helped along by improved local production and transport as well as large shipments of uniforms sent from France.
Several researchers (including Charles Lefferts) have concluded that by far the most popular and representative of all the American uniforms was that which was "official" to the middle states of Virginia, Pennsylvania, Maryland and Delaware. This blue regimental coat with red facings seems to have been used far beyond just this region and was enjoying popularity even before the official orders of 1779. After all, this color combination had been common among colonial units earlier in the 18th century. During the Revolutionary War the blue regimental coat with red facings made perhaps its first appearance in 1775 with the Wethersfield militia company of Connecticut. They were the only American unit to arrive in uniform for the Battle of Bunker Hill. Certain groups of Virginia militia seem to have used this colour combination as early as 1775 as well.
The blue coat with white facings of the New England regiments was also common while the "official" uniforms of the other regions seem to have been less used.
Uniformity was always a goal though even by the end of the war it had yet to be fully realized. Some regiments went through a number of incarnations and uniform changes. Even a unit as famous and well equipped as Washington's Life Guards seems to have gone through a uniform history that leaves the researcher wondering. Washington's original commissary request for this unit was blue coats with buff facings (as per his own uniform and that of the Fairfax County Virginia militia) and white small clothes. However, the unit seems to have been initially provided with red waistcoats (not white) from a captured British supply ship. These troops were also initially given British style dragoon hats (also said to have been captured from the British by a privateer) but later are apparently wearing the cocked hats standard to the army. Very late in the war Washington's Lifeguards are described by a witness as wearing blue coats with white facings. Perhaps these were New England men who had not been reissued new uniforms (though this would seem unlikely as the Life Guards was an elite unit and Washington was particular regarding their appearance) or perhaps the uniform of the Life Guards had changed – as was common with many regiments throughout the war. As the records of the Life Guards were destroyed in a fire we are left to speculate.
Was the "Betsy Ross" style flag used in battle during the American Revolution? Quite possibly!
Charles Wilson Peale was one of the preeminent artists of colonial and revolutionary America. He painted many of the founding fathers and actually painted George Washington seven times. Peale's portrait of Washington called George Washington at Princeton is regarded as one of the most accurate physical likenesses of Washington. The painting depicts Washington after the Battle of Princeton, a battle at which Peale was personally present, fighting in the front line at the climax of the battle. The painting was made in 1778 and very clearly in the background is a flag with the stars placed in a circle, as per the Betsy Ross Flag. The battle took place on January 3, 1777, six months before the Flag Resolution was passed by the Continental Congress which stipulated a thirteen star design. However, numerous persons (including Betsy Ross) indicated that 13 star designs had become common even before being made official by Congress. Scholars point out many reasons that the painting can be trusted. Peale was obviously familiar with the scene since he was there personally and fought in the battle. He is also known to have been meticulous in researching the settings for his paintings. He examined the actual Hessian flags depicted at General Washington's feet so he could paint them accurately. The flags had been captured and were still in the possession of the Americans. He returned to the battlefield of Princeton to examine the local landscape for the painting. His known adherence to historical detail makes it seem likely that this was the actual flag flown at the battle. Another very similar portrait of Washington called George Washington at the Battle of Princeton was commissioned by Princeton University in 1784, again to be painted by Peale. Washington sat again for Peale's portrait and Peale again included the Stars and Stripes with 13 stars in a circle. Eyewitnesses also describe a stars and stripes flag in use at the Siege of Fort Stanwix in August of 1777 and Alfred B. Street described the stars laid out in a circle on an American flag at the surrender of General Burgoyne at the Battle of Saratoga in October, 1777.
All content © 2004-2016 We Make History
No reproduction without written permission.